HCL establishes GGITS as first K2 Academy in Madhya Pradesh

GyanGanga is one amongst the two colleges in whole of MP and one amongst 9 colleges on All India basis to have HCL K2 Academy. Under this Academy first HCL Training Program for BE Students was launched on 24th Jan 2009 .


As part of its Educational Institutions Alliance Program, HCL has launched K2 academy with an objective of bridging the gap between the demand and supply of industry-ready ICT professionals, by creating skilled workforce and making them available to organizations deploying ICT.

At HCL K2 Academy the students are offered training on contemporary technologies, projects, industry exposure through principal workshops by Microsoft, Oracle and Redhat and an opportunity of internship at HCL & other associate companies. GGITS will provide the necessary infrastructure for the courses with recommendations from HCL. Qualifying students at the end of curriculum will be awarded a certificate and performance based placement assistance.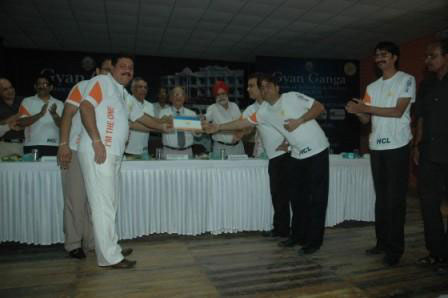 List of Events under HCL K2 Academy-
Launch of Training for BE 1st Year and MCA 1st Year students under HCl K2 Academy & IBM DB2 Accreditation -
8th May marked 2 important events at GyanGanga Institute-launch of HCL Training Programme for 1st Year students of BE & MCA and IBM DB2Accreditation.HCL conducts training for BE 1St Year and MCA 1st Year from 8th May to 20th May 2009. 500 students attended the training programme and the modules covered were Computer Fundamentals, Operating System Installation, Hardware Assembly, and Programming through C & C++. It was 100 hrs of training programme.
Launch of Training for BE IV Semester under HCL K2 Academy
HCl conducts training for BE IV Sem during winter vacation. Total 418 students attended the training programme and the modules covered were Dot net & SQL Server. It was 150 hrs of training and finally students were submit project using the same technology.
Workshop by HCL
Workshop on SQL Server 2005/2008 was conducted by Mr. Dheeraj from HCL at GGCT. Students undergoing HCL Training were really benefitted by the workshop..
Project Analysis by HCL
Project Analysis by Mr. Kishore from HCL was done on 22nd and 23rd Sep. 2008 for the Batches undergoing HCL Training (B1, B2, B3, B4) (Total 141 students).
Career & Soft Skills Training by HCL
SoftSkill/Personality Development and interview handling skills were taught to the students of 5th Semester BE. The training was conducted for 16 hrs.Students of B.E., MCA 2009 Batch attended the seminar on Personality Development
Workshop through Webcast Sessions by MICROSOFT
Webcast Workshop was organized by Microsoft in association with HCL. The Workshop continued for 3 days, i.e., 17-19th Sep. 2008 from 10.00 a.m. to 5.00 p.m. daily with sessions on different topics. Students of 2009 Batch and 2010 Batch attended these sessions. The arrangements were done in Computer Labs L1, L2 and L3.
Launching Ceremony of HCL K2 Academy by HCL
A Launching Ceremony of HCL K2 Academy was organized today. All the Parents of 2011 Batch were invited and had an interaction with personnelís from HCL. It was informed them regarding technical training being made compulsory for all the students. All were in HCL T-shirts.